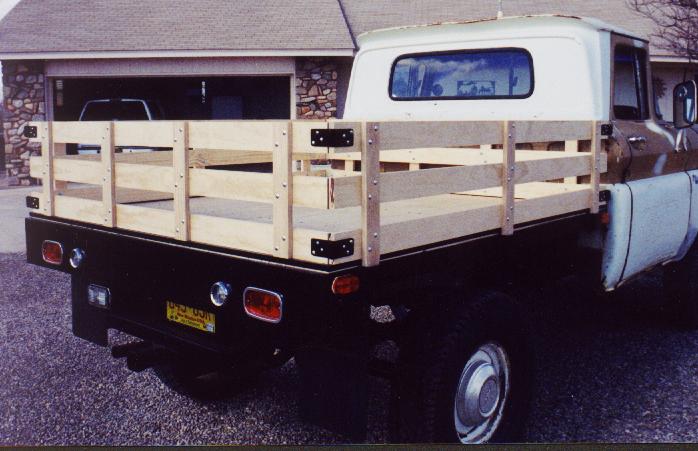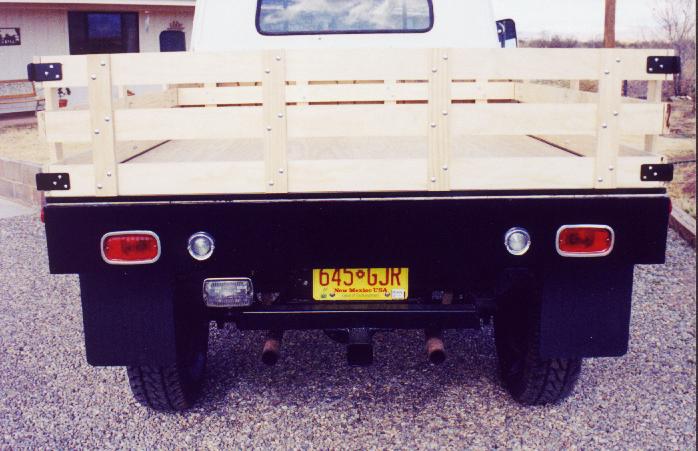 White pine was used for the bed wood and stake sides since it was one of the woods used
by the factory for pickup beds. The stake side latches are a simple design and were fabricated in house.
The truck's original rear lighting was incorporated into the bed apron to keep a factory appearance.
The rear end was given new axle bearings and seals. It is equipped with an Eaton Limited
Slip Differential (early style - no springs) and I replaced the clutch packs.
New wheel cylinders, brake linings and brake lines were installed.
A Master Power Brakes 9" booster and dual master cylinder with proportioning valve were installed.
The kit BM1750 included a clutch master cylinder and brackets.

The rear suspension was re-arced and an extra second position leaf placed in each pack.
New shackles, pins and bushings were installed. Rough Country RC9000 200psi shocks were installed.
E-brake cables were fabricated by California Push-Pull since replacements are non-existent.
I was unable to find a receiver hitch on the market for this application, so I fabricated one.
The front suspension has had the same treatment as the rear and the steering box
has been rebuilt with NOS parts from (now defunct) Obsolete Chevy Parts.
Stock wheels were 17" split rims and I had changed them to 16" rims in '82 but I wanted
the truck to stand close to original so I chose Big O 255/85-16 XT tires (early tread).
(Wish I had kept those original split rims!)
Front shocks are Monroe Gas Magnums, the stabilizer is Rough Country.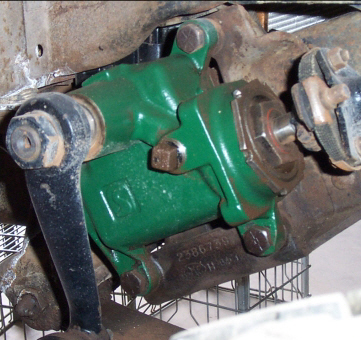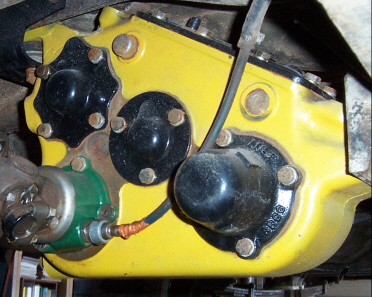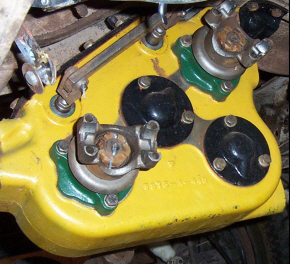 The transfer case has been completely rebuilt during which time I found that serviceable Rockwell T-221
cases are becoming very rare and that the acquisition of a good spare (complete) case would be prudent.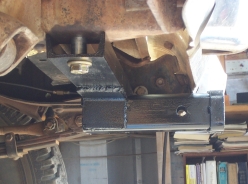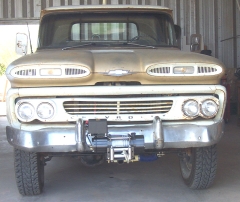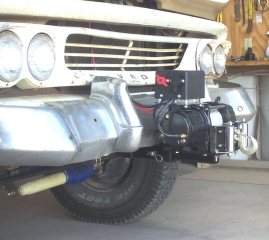 I built a receiver hitch for the front in order to mount an electric winch for skidding short logs and pulling brush, etc.
I chose a Mile Marker PE6000 (3 ton, 3.5hp) winch for the duty and mounted it to 1/4" plate which I welded to 2"x2"x1/4" tubing.
The hitch is 2" receiver tubing welded and braced to 3"x1/4" channel then bolted to the frame at each end with 5/8" Gr8 bolts
inserted through 1/8" steel spacers to add stability and increased strength. I applied quick disconnects to allow
for easy removal of the winch for storage or to relocate to the rear receiver. I ran 4 gauge cable to the rear hitch for winch
use and to supply power for various other 12 volt utilities (sprayer, lighting etc.)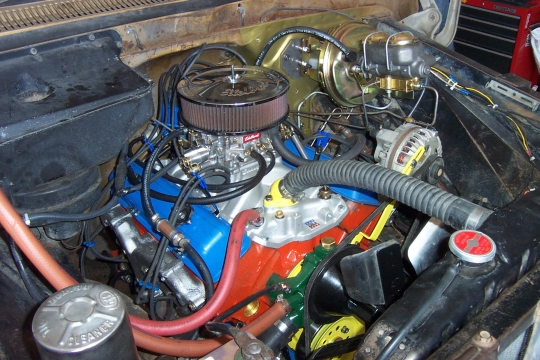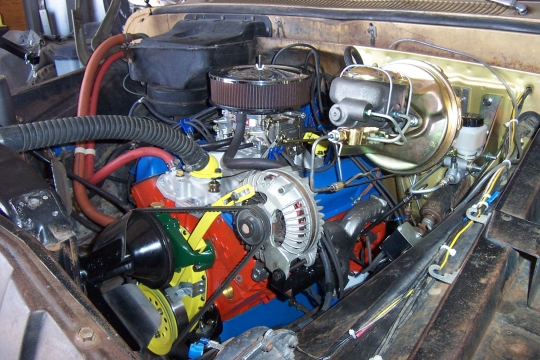 I installed a '69 Chevy truck 327ci engine fully rebuilt including
an Elgin 923 cam, Elgin roller rockers and Cloyes timing set.
An Edelbrock EPS manifold and 650 cfm 1405 four barrel feeds the cylinders.
Exhaust is expelled through OEM ram-style manifolds and out MagnaFlow turbo mufflers.
I changed the points ignition to a Pertronix system along with a Pertronix coil and wires. I use Champion plugs.
For electrical power a 90 amp Chrysler alternator is employed (I like the ease of field repair on these alternators).
A Frantz oil filter is installed at the oil gauge feed then run through a cooler. Air is cleaned through a K&N filter.
A Stewart Stage1 high flow water pump circulates the coolant.
The clutch is a Sachs 12" power clutch and pressure plate.
On the slate for the future is a nice cab to work over.
NOTE: The Master Power Brakes installation has served well over the past decade, however I have kept the following
information online merely to keep the log of my experiences intact.
It is not my intent for this information to reflect on Master Power Brakes present day operations or products.
Read my evaluation of the BM1750 kit here.

Pictorial account of the eventual breakdown of the BM1750 kit bracketry: